Sophie Grégoire with her husband, Prime Minister of Canada, Justin Trudeau – GETTY images
Sophie Grégoire Trudeau has tested positive for the coronavirus. She and the Prime Minister will be self-isolating for 14 days.

pic.twitter.com/Eh73CupIIX

— CBC News Alerts (@CBCAlerts) March 13, 2020
By
HUFFINGTON POST CANADA
, 03/12/2020 22:34 EDT | Updated 7 minutes ago
Justin Trudeau's Wife Tests Positive For Coronavirus
The Canadian prime minister's wife, Sophie Grégoire Trudeau, had begun "exhibiting mild flu-like symptoms including a low fever."
Canadian Prime Minister
Justin Trudeau
's wife,
Sophie Grégoire Trudeau
, has tested positive for
COVID-19
.
In a statement Thursday, the Prime Minister's Office said: "Following medical recommendations, Sophie Grégoire Trudeau was tested for COVID-19 today. The test came back positive."
"She is feeling well, is taking all the recommended precautions and her symptoms remain mild," read the statement, which also indicated she'd be staying in isolation.
Earlier Thursday, the Prime Minister's Office
issued a statement that Grégoire Trudeau
began "exhibiting mild flu-like symptoms including a low fever late last night" after returning from a speaking engagement in London.
"She immediately sought medical advice, and is being tested for the COVID-19 virus. She is self-isolating at home awaiting test results, and her symptoms have since subsided," read the statement.
Those results were positive, so the prime minister, who is in "good health with no symptoms," is taking the "precautionary measure" of isolating himself for 14 days.
Trudeau will reportedly not be tested because he currently has no symptoms.
CBC News Alerts
✔@CBCAlerts
Sophie Grégoire Trudeau has tested positive for the coronavirus. She and the Prime Minister will be self-isolating for 14 days.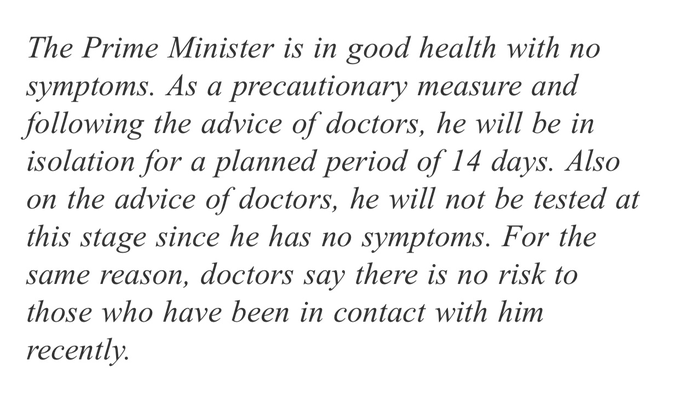 3,017
10:52 PM – Mar 12, 2020
Twitter Ads info and privacy

3,308 people are talking about this
Trudeau's meetings with premiers and Indigenous leaders that were scheduled for this week have been postponed. He had planned to deliver an address to Canadians on Friday.
COVID-19, the disease caused by the novel coronavirus, was
declared a pandemic
by the World Health Organization on Wednesday and has taken the lives of more than 4,000 people. Symptoms of the disease, which spreads rapidly, include coughing, fever and shortness of breath, which may not appear until 14 days after exposure.
ABOUT Sophie:
https://en.wikipedia.org/wiki/Sophie_Gr%C3%A9goire_Trudeau
Sophie Grégoire Trudeau
From Wikipedia, the free encyclopedia
Jump to navigationJump to search
For the Canadian musician, see Sophie Trudeau (musician).
Sophie Grégoire Trudeau
Sophie Gregoire 2017.jpg
Grégoire Trudeau in 2017
Spouse of the Prime Minister of Canada
Assumed role
November 4, 2015
Preceded by
Laureen Harper
Personal details
Born
Sophie Grégoire
April 24, 1975 (age 44)
Montreal, Quebec, Canada
Nationality
Canadian
Political party
Liberal
Spouse(s)
Justin Trudeau (m. 2005)
Children
3
Residence
Rideau Cottage
Alma mater
McGill University
Université de Montréal
Occupation
Media personality
Sophie Grégoire (French: [sɔfi gʁegwɑʁ]; born April 24, 1975), also known as Sophie Grégoire Trudeau,[1][2][3][4] is the wife of the 23rd and current prime minister of Canada, Justin Trudeau. She is a former television host and is involved in charity work and public speaking, focusing mainly on women's and children's issues.